The #1 Reason People Join Keller Williams… Training!
Keller Williams Training
We are going, to be honest…
Starting and owning a business is challenging!
According to Bloomberg, 8 out of 10 entrepreneurs who start businesses fail within the first 18 months. A whopping 80% crash and burn! In the real estate industry, 70-80% of the agents drop out in the first 12 months of being licensed.
Why?
Because like we said before, starting a new business is challenging!
It takes real work, a plan, and, most importantly, being trained on how to actually make money in real estate.
This is why the company you choose to work with is such an important decision! 
So how does Keller Williams training actually help you succeed in real estate and build a lasting business?
At KW we will teach you how to get clients, work with buyers, work with sellers, hire people, invest in real estate, grow personally and professionally, and so much more!
Keller Williams has always been and will continue to be a training company first. We believe that is a fundamentally important differentiator in who we are. Gary Keller, the co-founder of KW, likes to say that Keller Williams is a training and coaching company disguised as a real estate company.
What does this mean?
It means we are committed to your continued growth and success. It means we don't just care about how many homes you sell. We care about the business you're building and the person you're becoming in the process.
It means we realize that the best way to grow a great company is not to promote the brand. But to promote and invest in each individual agent. Because we know if we can help YOU succeed, then we all succeed.
KW has hung its hat on being THE #1 TRAINING COMPANY IN THE WORLD ACROSS ALL INDUSTRIES for the last few years.
Keller Williams training is one of the top reasons why we have grown to be the #1 real estate franchise company in units, volume, and agent count.
So what are some of the training you can expect at Keller Williams?
Here is a list of a few KW trainings that really stand out at the start of your career:
Ignite 2.0 –

Ignite 2.0 has a single objective: to propel agents into immediate productivity. The course contains a wealth of foundational real estate content, enhanced by productivity-based exercises, an online tracking system, practical job aids, and powerful scripts. Ignite 2.0 runs nine weeks and consists of two sections — Spark, which is designed to get an agent their first appointment, and Elementals, with the goal of leading agents to a closed contract.

Win with Buyers –

This one-day interactive class teaches you the best practices, habits, and techniques that helped buyer masters rise to the top. Learn their secrets of success so you too can build a high-level buyer business. The course takes you through the Seven-Step Buyer Service Cycle, emphasizing the proven models, systems, techniques, and scripts to win the buyer and grow your business.

Win with Sellers –

The course takes you through the Seven-Step Seller Service Cycle, emphasizing the models, systems, and techniques proven by top agents. Maximize the models that will propel your listing business forward and provide a sturdy foundation for growth. Fill your pipeline with leads and appointments by learning prequalification, conversion, pre-listing, and other techniques that create clients for life. Learn how to identify areas for growth of your seller business and how to improve constantly over time. Get into the habit of tracking your numbers so you can monitor your business growth and set goals. Learn the top seller objections, master scripts top agents use to handle them, and learn how to eliminate them altogether. Create clients for life by providing an excellent customer experience, for your sellers and the buyers you meet while servicing your sellers.

Quantum Leap –

Developed by Gary Keller, co-founder, and chairman of the board of Keller Williams Realty, Quantum Leap digs into the power principles and disciplines that can help anyone achieve a more abundant life. In this profound course, you'll find usable models and practical exercises, as well as make pertinent discoveries to uncover the keys to living with purpose and direction.

 

BOLD –

BOLD stands for Business Objective, Life by Design and is a coaching and training program offered by Keller Williams that teaches the agents powerful scripts, advanced business and time management strategies, language techniques, and mindset exercises to adapt to the market shift. The curriculum provides an agent with all the things they need to build a successful real estate career.
Inside a Keller Williams office, we have a training calendar that goes over all the different training opportunities on a local, regional and national level. 
No matter your goals, we have the training to support you in your real estate career!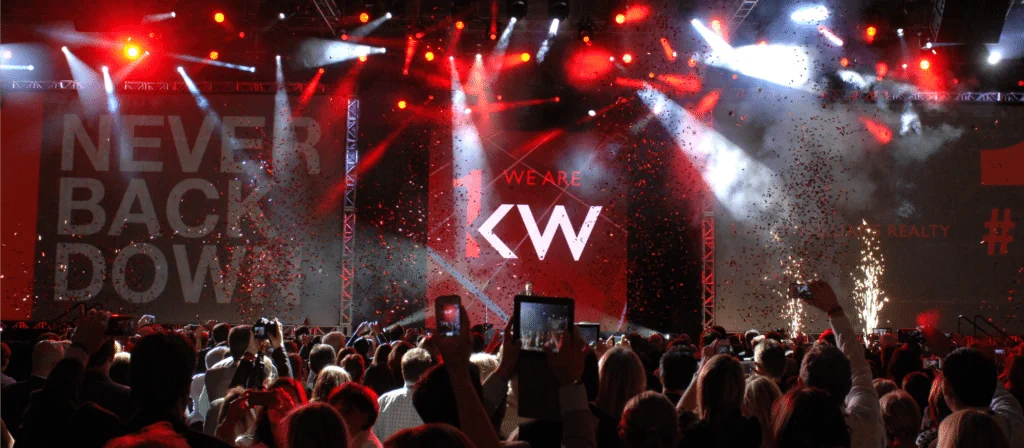 Click the button below to apply to Keller Williams and I'll show you how to get licensed and launch your new career!